Learn The Skills You Need for LinkedIn in 4 Weeks
Develop the understanding and skills you require to Master LinkedIn.
Create Visibility and Awareness for Your Brand.
Generate Leads and Build Strong Relationships with Potential Clients and Partners.
LINKEDIN TRAINING THAT DELIVERS!
The 4 Week LinkedIn Logic Training Bootcamp is here to help you create visibility on this Professional Network and give you the confidence to connect and deliver value to you potential prospects on LinkedIn. This Bootcamp was created as an inexpensive program to help small business owners,  entrepreneurs, and people like you learn the foundations and get started on LinkedIn.
LinkedIn offers vast opportunities to connect with some of the worlds most powerful decision-makers, it is one of the best networks Social Media Platform to establish yourself as a thought leader and professional in your industry.
Many businesses use LinkedIn to source partners, contributors and clients having a digital presence on this platform is key to your success and visibility. The LinkedIn Logic course will give you a sense of awareness and confidence to build your profile and help you find and engage with a new audience Alan Hennessy is an industry expert when it comes to educating and training on Linkedin. Alan direction is being able to explain complex concepts in very easy to understand, manageable way so you don't become overwhelmed.
WHY LINKEDIN IS SO IMPORTANT FOR BUSINESS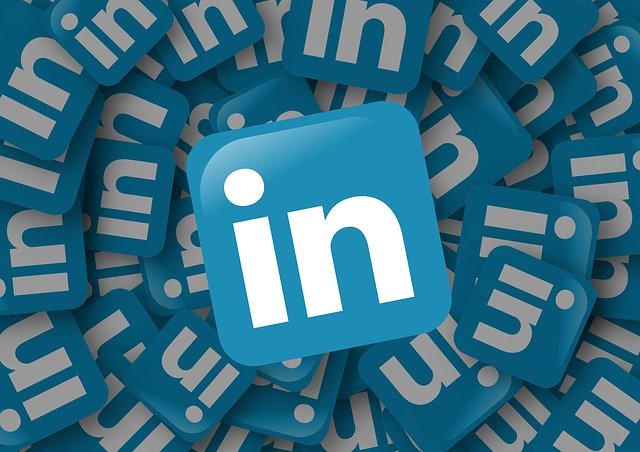 LINKEDIN LOGIC COURSE
CONTENT STRUCTURE
WEEK 1 - The Fundamentals of LinkedIn
What is LinkedIn
Understanding the Benefits of LinkedIn
The Business of Connections
The Difference between Personal & Business Profile
LinkedIn Terminology
Week 2 – Profile Building
Breakdown of Personal Profiles
Breakdown of Business Profiles
Week 3  –  The Power of Connection
Exploring Search & Advanced Search on LinkedIn
Reaching Out and Connecting
Building Relationships
Week 4 –  LinkedIn Ninja Tips
LinkedIn New Features
LinkedIn Hacks
LinkedIn Video Native & Third Party
LinkedIn Shared Content
LinkedIn Groups
LinkedIn Settings
Bonus Content
How to Tutorials Video's
Ebooks
Worksheets
Course Format
Platform: Zoom Conference Call
Course Length: 4 x 1 Hour Sessions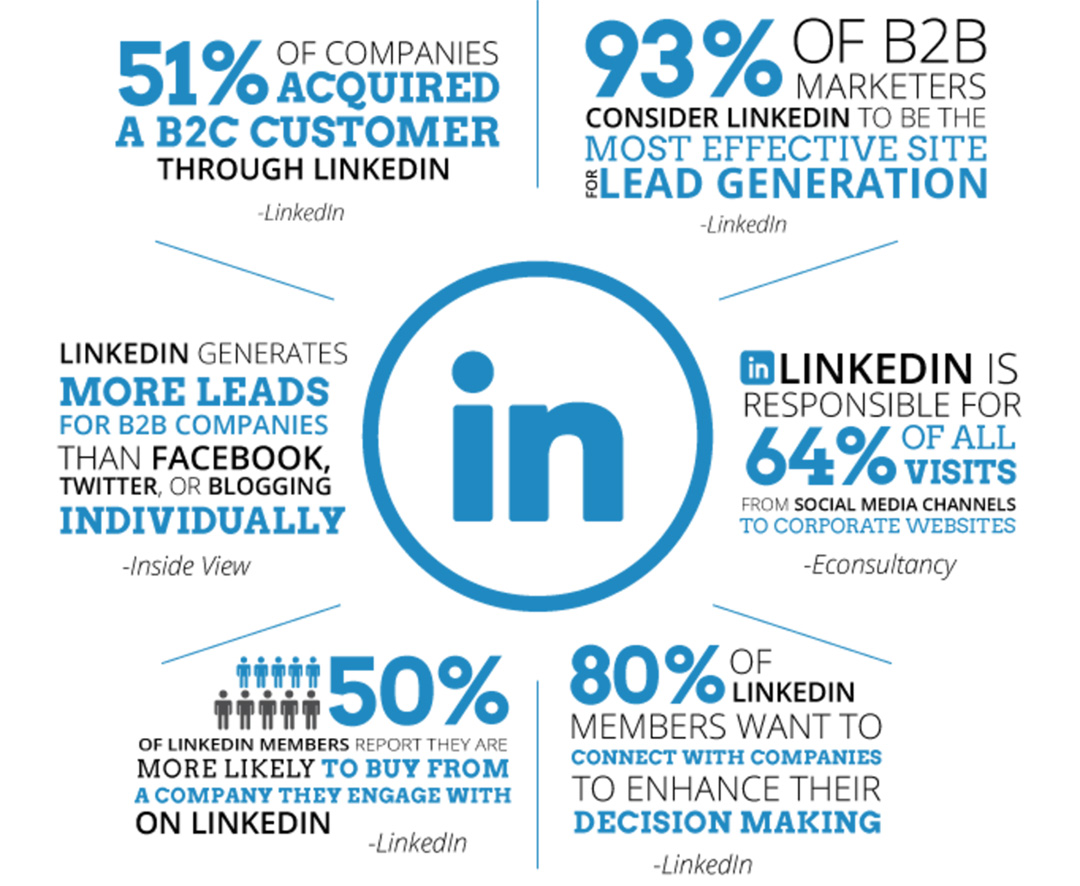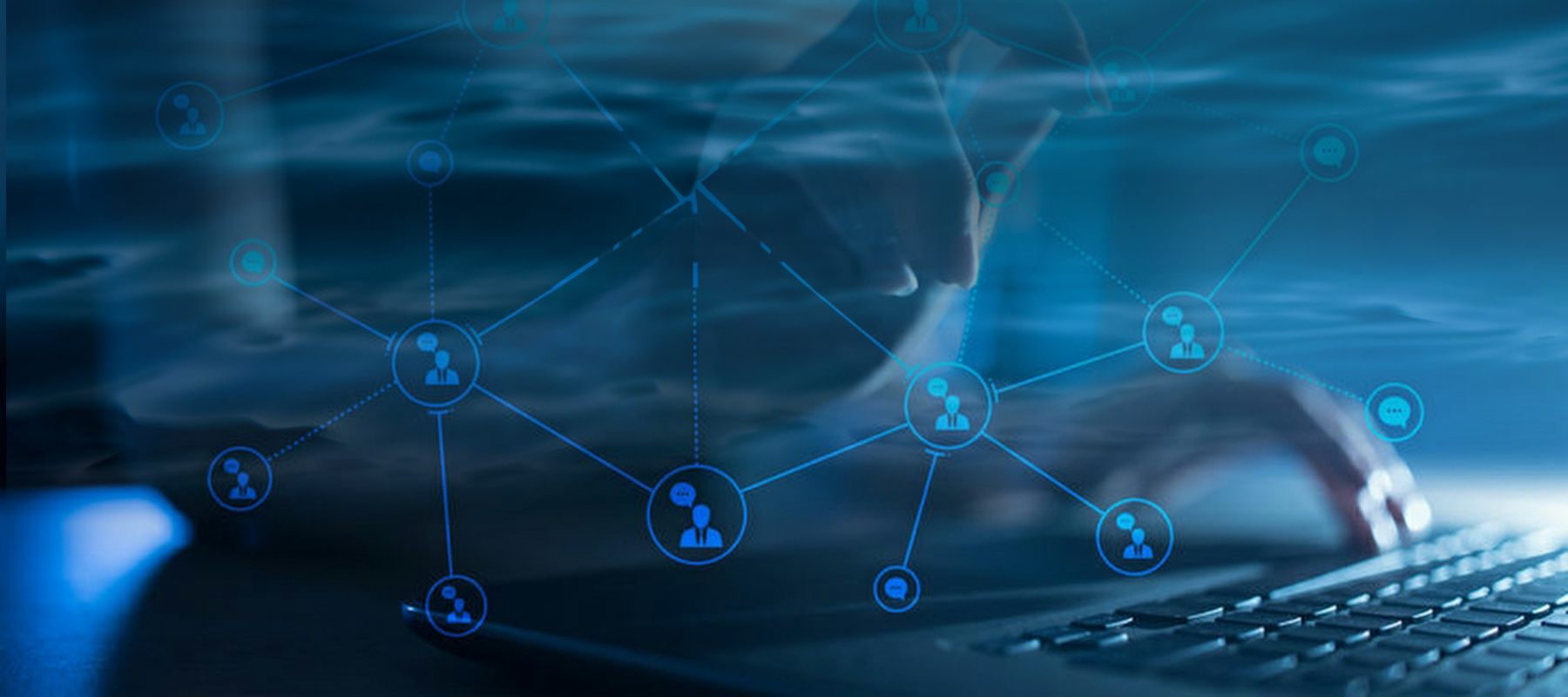 Alan is a Digital and Content Marketing Consultant, Social Media Trainer, Keynote Speaker and Podcaster. Alan founded Kompass Media in 2015, offering a different approach to managing Digital Marketing online.
The company manages social media accounts for small to medium size businesses right up to corporate clients.
Alan teaches very successful Social Media Training programs aimed at helping both companies and individuals develop and understand Social Media Marketing.
He also presents a Bi-Weekly podcast Series (The Social Media Talks Podcast). Alan chats with some of the world's most influential people in business and Social & Digital Marketing with over 90 episodes already published and available on all Leading Podcast Providers.
Connect with Alan on LinkedIn 👉 linkedin.com/in/alanhennessy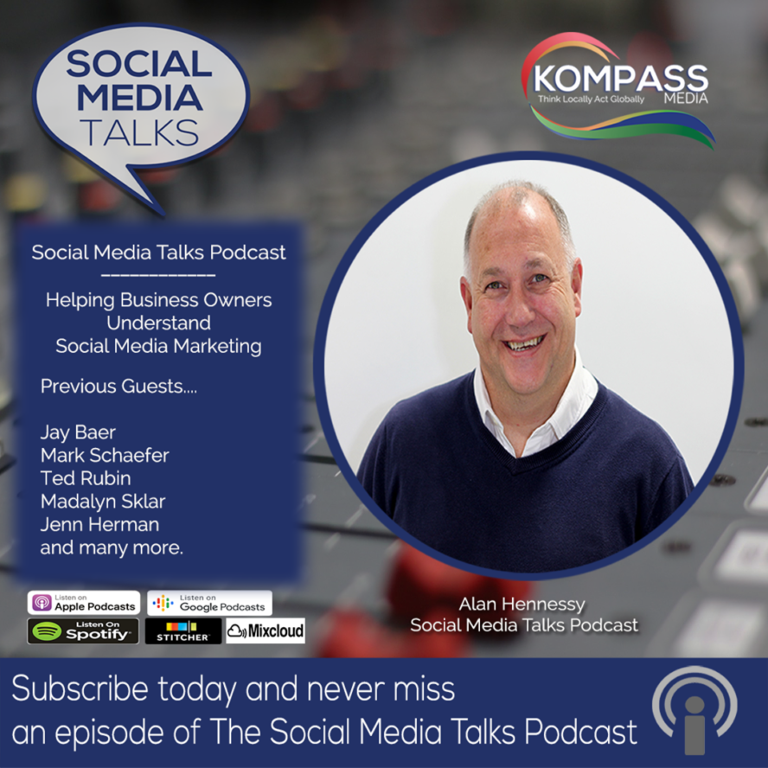 DON'T TAKE OUR WORD FOR IT
Listen to Students that Alan has taught in developing their Digital Marketing Skills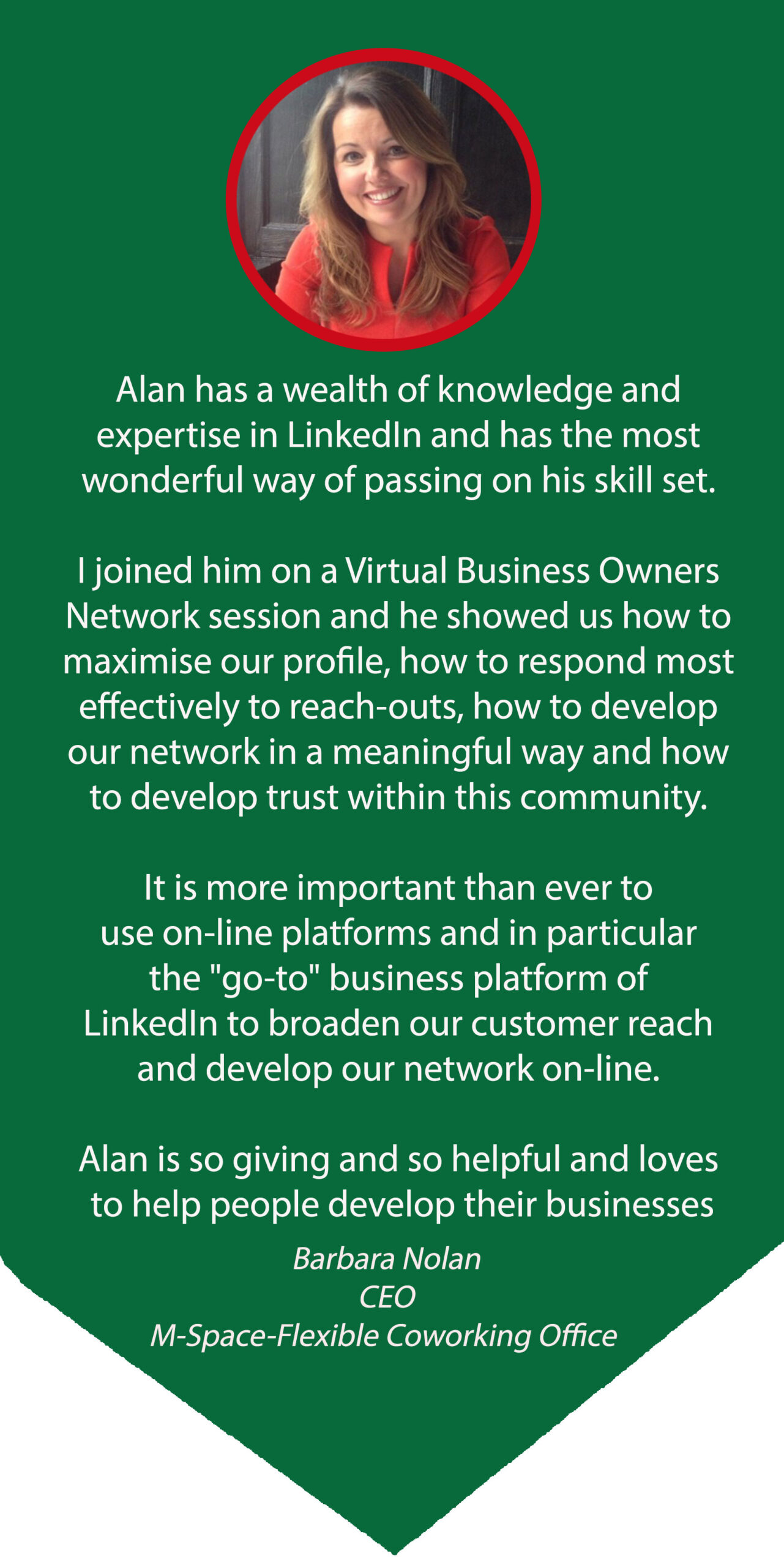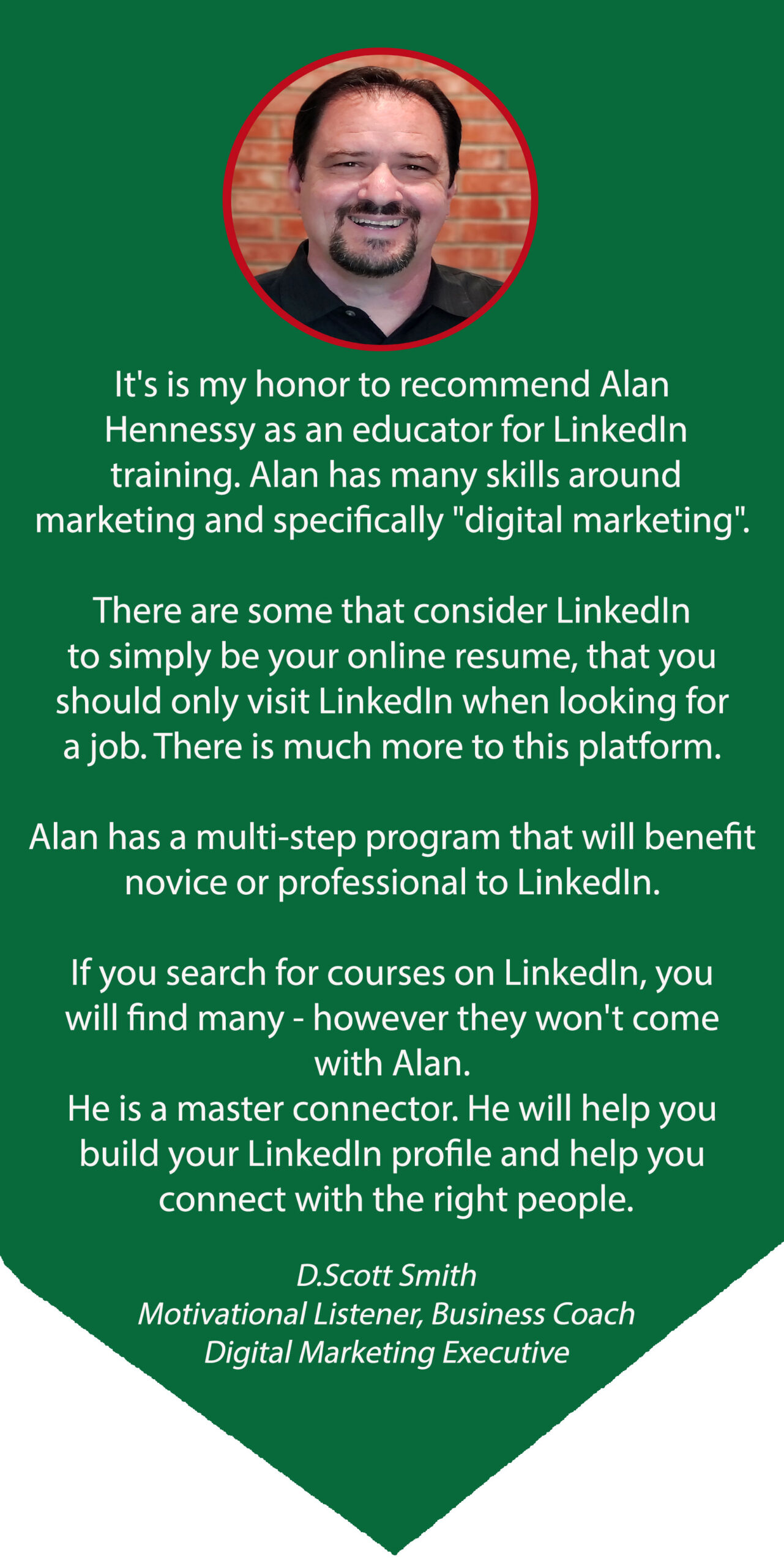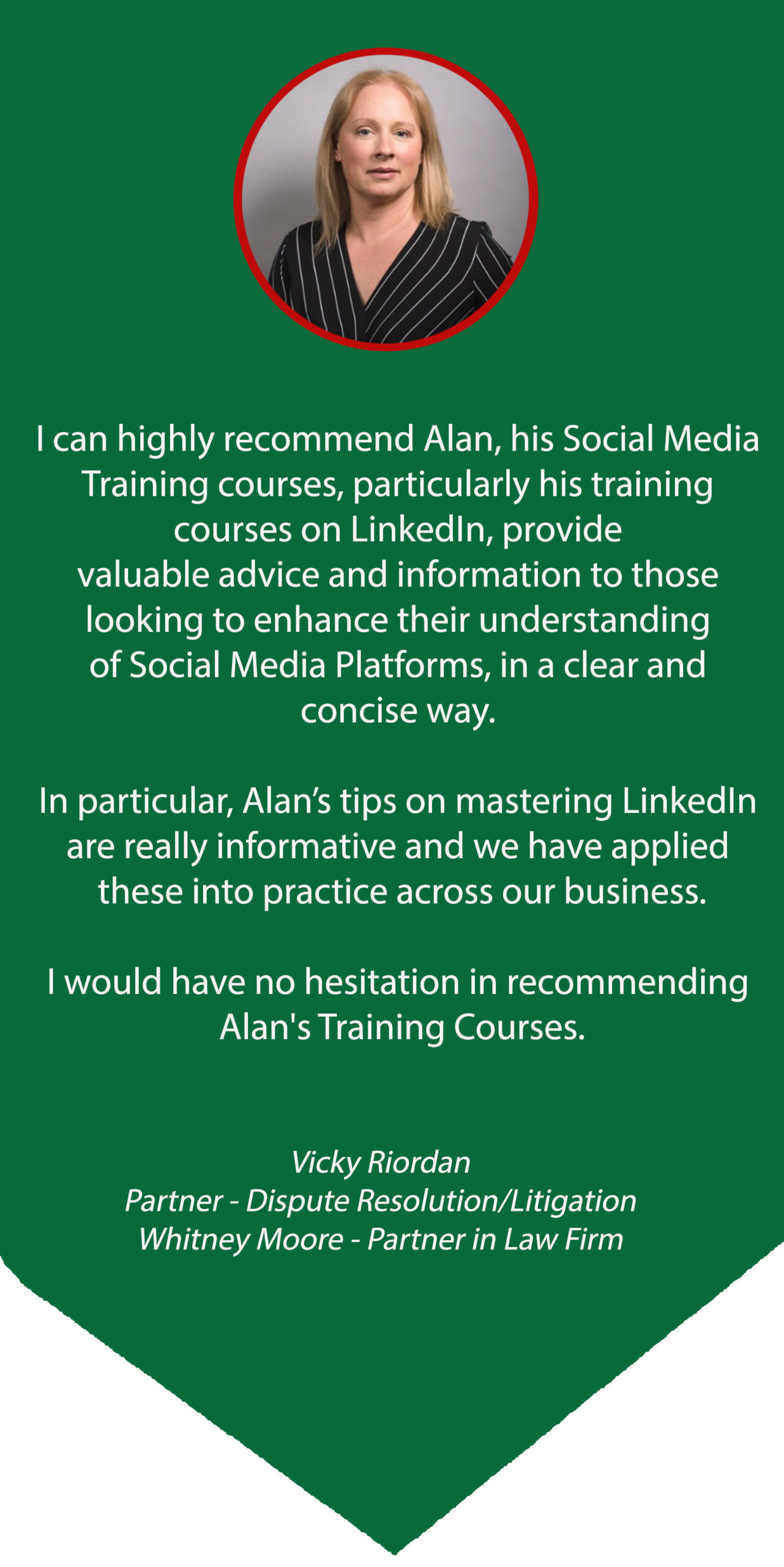 LINKEDIN LOGIC
THE IDEA IS NOT TO DOMINATE,
IT IS TO CONNECT AND COMMUNICATE